Microsoft Band Review
Header image from Windows Central
The Microsoft Band isn't a smartwatch. Or at least that's what Microsoft wants you to believe. Late last year Microsoft quietly released the Band. The original Band included a ton of sensors.
Heart rate monitor
Accelerometer
Gyrometer
GPS
Microphone
Ambient light sensor
Galvanic skin response sensor
UV sensor
Skin temperature sensor
This year the new Band adds one more sensor, a barometer. The Band is much closer to an activity tracker, like a Fitbit, than it is to a smartwatch, like the Apple Watch, but it serves both purposes. It can track your heart rate, you can use it for running or biking or workouts, and it can give you notifications like the Apple Watch. However it doesn't and probably will never have large app support like the Apple Watch.
Coming in at $250 the Band is a pretty cool device. First and foremost, it's an activity tracker. It counts your steps, tracks how many miles you've traveled, counts how many calories you've burned, tracks how many floors you've climbed, and constantly tracks your heart rate. It also supports iOS, Android, and Windows Phone unlike almost every other activity tracker, smartwatch...or app out there. Wearing the Band takes a little getting used to. The Band comes in 3 different sizes and after you find the one that's right for you it attaches with a clasp on the back of the device. For the first few days I would take it off every once in a while because it was a little annoying to wear but almost a month later it doesn't really bother me now. The charging port is on the clasp so that the charging connectors don't get gross from you skin. There are two buttons on the device, a power button to turn the screen on and off, and an action button, used to perform actions.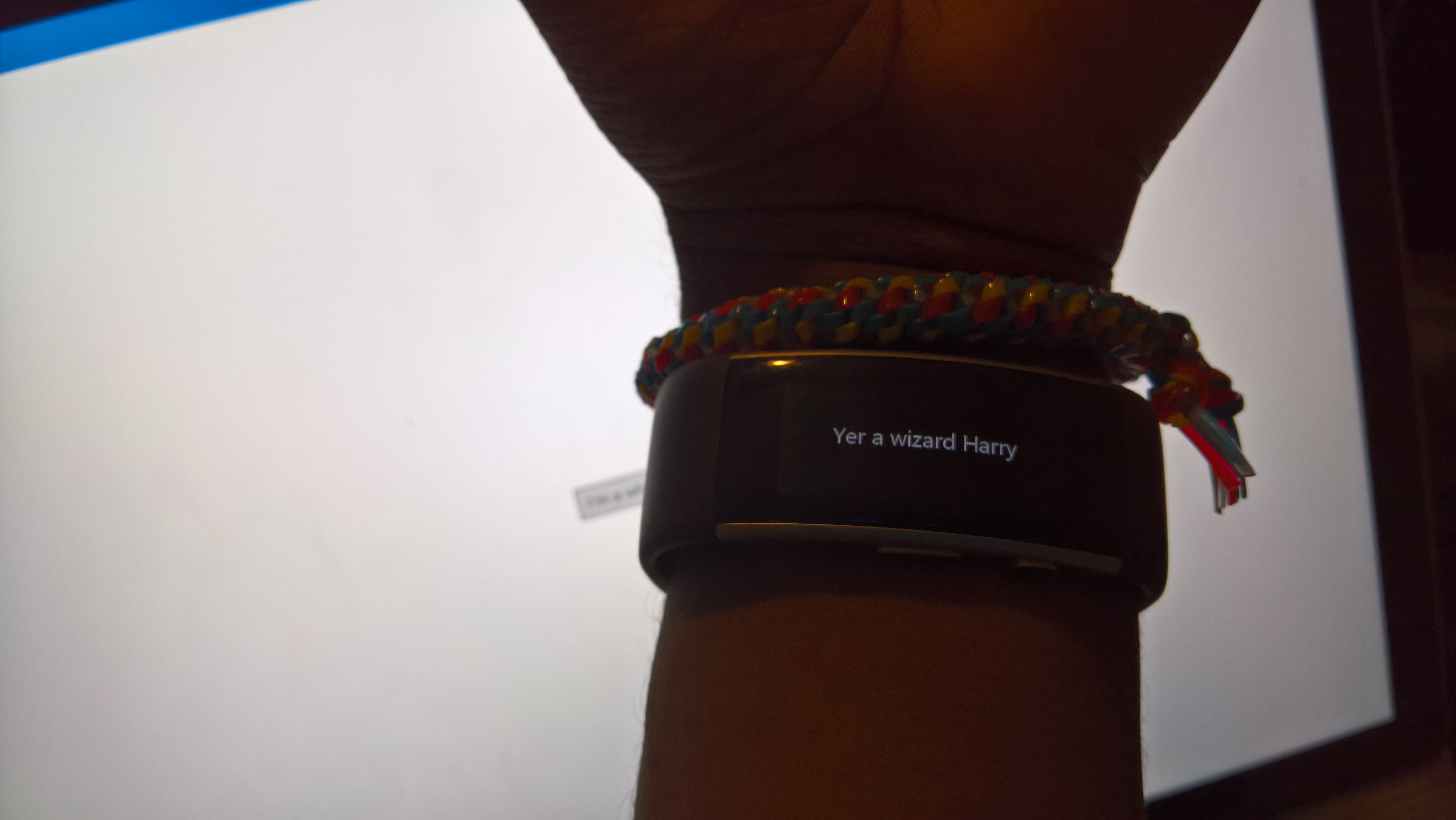 The screen of the device slightly curves around your wrist, it's more comfortable than the previous model that had a flat display. The recommended wearing position of the Band is with the screen on the inside of your wrist, it's easier to use the device this way. The screen is Gorilla Glass 3 so I haven't experienced any scratches. The interface of the Band is tiled similar to the Windows Phone start screen. The tiles are arranged in a strip, one after another. At the beginning of the strip is the Me tile which you can tap on to get the stats I stated above, steps, miles, calories, floors, and current heart rate. After the Me tile you can customize the tile layout using the Microsoft Health app (that you need to use the device). The rest of the tiles are basically like small apps, I can get text messages, call notifications, emails, Facebook messages, general notifications, and more. However, you can only reply to text messages using the Band using the (really tiny) on screen keyboard or using voice with Cortana (only available on Windows Phone).
But that's all I really use the Band for, notifications. Oh, that and sleep tracking. The new Band now does sleep tracking and also supports a smart alarm that will try to wake you up at your lightest period of sleep in a 30 minute window before your actual alarm time. After a good night's sleep, you can see when you were in "restful sleep" or "light sleep" or when you woke up. It also keeps track of your heart rate and how many calories you burned while sleeping. You can check all of your stats like steps or sleep with the Microsoft Health app but you can also view everything in an online dashboard. It's pretty cool data to look at.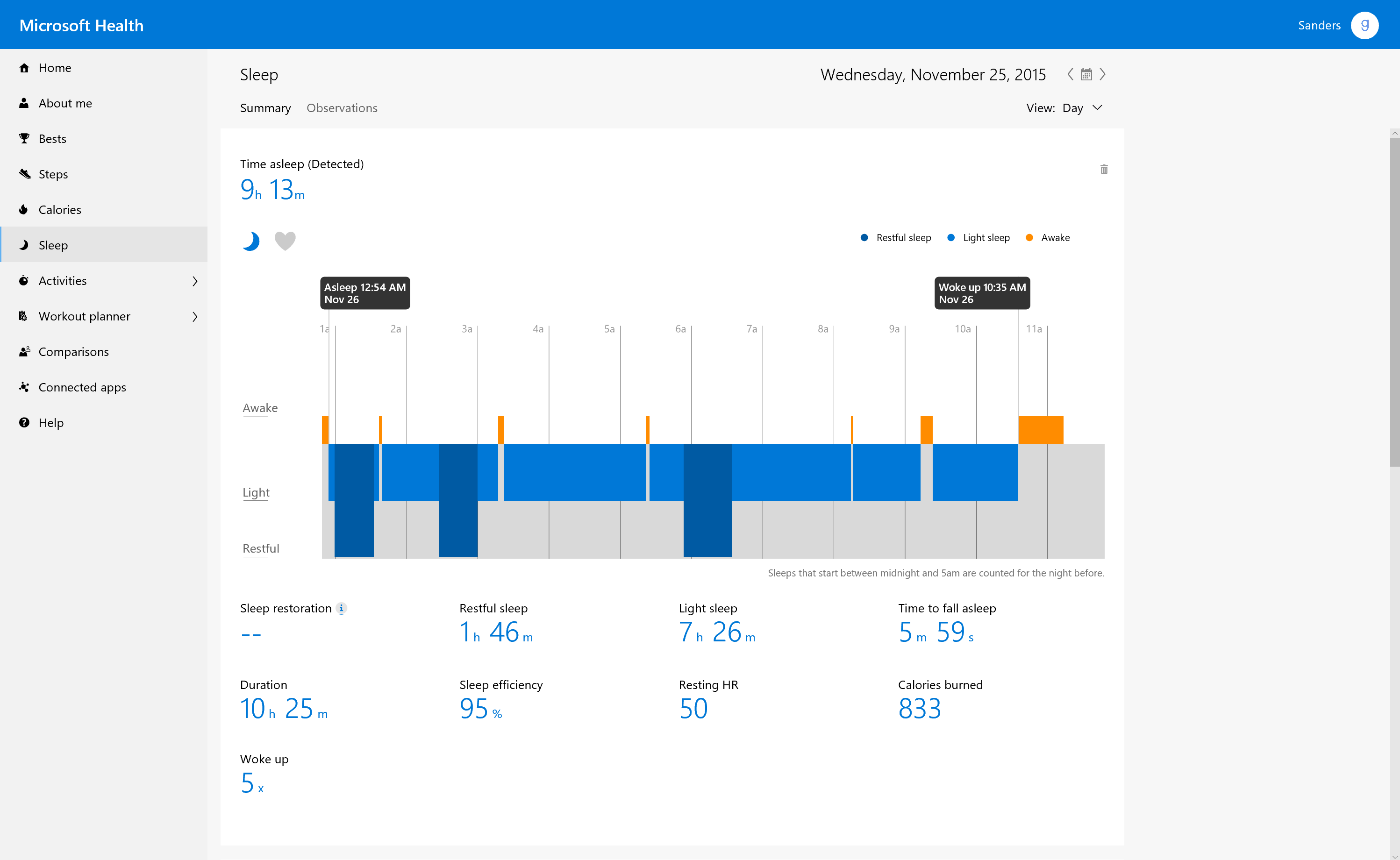 The battery life on the device I think is OK. Microsoft claims up to 48 hours and my experience seems to match that. Other people have different thoughts about it. For a activity tracker it has terrible battery life. The Fitbit Surge, a comparable activity tracker that also has a GPS, has up to a 7 day battery life, and up to 10 hours while using the GPS. On the other hand (or wrist) the Apple Watch has up to an 18 hour battery life. The original Pebble (which I do own) and Pebble Time have up to a 7 day battery life. The new Pebble Time Round has up to a 2 day battery life. For a smartwatch (besides the Pebble) the Band is pretty comparable. For an activity tracker the Band sucks when it comes to battery life. If you use GPS on the Band I've read that the battery life is close to 4 hours. The Band charges up in around 1.5 hours. I charge it when I'm taking a shower or when I'm sitting at my desk so I never really worry about it running out of battery.
Overall the Microsoft Band 2 is just OK and that's why I'm returning mine. I can't really justify a notification and sleep tracking watch for $250. If I used the other features (read exercised) then I could probably justify keeping it. There are still a couple more things I want from the Band, mainly for it to be waterproof and have better app support, for me to use it mainly as a smartwatch. Currently it's only water resistant which means don't shower or swim with it but you can go out in the rain or wash dishes with it. For the normal person who has an iOS or Android phone there are a ton more options out there for you. You can get an Apple Watch or an Android Wear device or a Pebble if you are looking for smartwatches, you can get a Fitbit or a comparable device if you are looking for an activity tracker. There are a whole bunch of options out there for wearables and the Band is just another OK option.